Edited by Glen Joffe

| | |
| --- | --- |
| | |
| | Japanese calligraphy artist Seiran Chiba |
Sometimes, a blank canvas can be utterly intimidating to an artist. In response to viewing this void another void is created, and in it nothing may come to mind, the hand freezes, and time seems to stop. Calligrapher Seiran Chiba had this experience when her calligraphy master passed away and she was left for the first time with no guiding figure. For days she sat in front of a blank sheet of paper with her ink prepared and brush poised – yet nothing appeared. Since the day she entered a calligraphy school at the age of 11, her teachers had always provided her with lessons in the form of characters to write, which she replicated hundreds if not thousands of times until achieving perfection. Suddenly bereft of their guidance, Seiran felt a deep loss. Even when she tried to draw inspiration from other sources, the words on her canvas rang hollow.
| | |
| --- | --- |
| | |
| The idea of a calligraphy artist writing outdoors was unheard of before Seiran Chiba | |
One day, determined to overcome this obstacle Seiran gathered her calligraphy tools and stepped out into nature just like a plein air painter. This was unprecedented. Painters may paint outside, but calligraphy artists write indoors without exception. Setting up her brushes and ink in the woods and fields of Fukushima Prefecture, she drew many strange looks from people passing by, but she also found her greatest inspiration. Wherever she went, there were experiences particular to that one place and nowhere else: unique scents, distinct breezes, memorable sounds and interactions with people she met. One after another, she found words she wanted to write and feelings she wanted to express. It was the time when Seiran Chiba graduated from disciple to artist.
Seiran Chiba working outdoors in Fukushima, along with finished calligraphy piece titled, Bloom;
Calligraphy in the West may often be seen as a form of typography, appearing on invitation letters and forming the basis of graphic design fonts. Latin manuscripts, historical documents and religious inscriptions may also come to mind. However, in the East, calligraphy has long existed as one of the oldest and highest art forms – in fact, higher than painting or sculpture, which is today considered pinnacles of fine art. Calligraphy was not only appreciated, it was revered. In China, the difficulty of learning the extensive logographic character system, coupled with the political power of the written word, gave the practice of calligraphy a prestige unique to China's culture. Eventually, this culture and practice spread to Japan sometime around the 7th century and was further developed.
| | |
| --- | --- |
| | |
| Studio performance by Seiran Chiba | |
In Japan, calligraphy is still taught in elementary schools beginning with children in the 3rd or 4th grade. This is how Seiran first encountered calligraphy. She then decided to pursue calligraphy by joining a traditional school. Calligraphy, as much as it is art, is also a discipline. All classically trained calligraphers begin by studying the words of past masters, spending days, weeks and even months writing the same character over and over. Even now, 26 years later, Seiran diligently continues this rudimentary practice and believes calligraphers, no matter how experienced or accomplished, must maintain the humble mentality that they are forever students of the old masters. At the same time, artists like Seiran develop their own individual creative style and produce works that are rooted in tradition, yet distinctly unique and contemporary. One might say, writing, language, and meaning change and constantly evolve and this is evident through the work of authors, linguists and calligraphers.
| | |
| --- | --- |
| | |
| | Kiri wood earings decorated with Seiran Chiba's calligraphy |
It is no secret that the appreciation for traditional art in modern day Japan is fading. Yet, this doesn't faze Seiran Chiba. Instead, she is continually updating her work by collaborating with artists working in other traditional arts to create new works appealing to modern audiences while simultaneously expressing the beauty of Japanese culture. For example, Kiri wood earrings made from wood found in the Aizu region of Fukushima, often considered the highest grade of wood found in all of Japan, are now decorated with Seiran's calligraphy. They have become highly popular. She also collaborates with lacquerware workshops to produce beautifully crafted letter boxes and accessory cases, each bearing meaningful calligraphy characters. Ceramic ware finished in the traditional Aizu Hongo style (derived from the area of Hongo in the town of Aizu) quietly bears her graceful brushstrokes. In addition to collaborating with traditional craftspeople, she has also stepped beyond the bounds of orthodox calligraphy to create works for modern interiors. In one of her most contemporary pieces, she brings together glasswork and calligraphy, creating a decorative wall piece in which her characters are transformed into a mirrored surface on a matte background.
| | |
| --- | --- |
| | |
| Lacquerware with Seiran Chiba's calligraphy in gold | |
Seiran's more traditional works are mounted on hanging scrolls – the scrolls handmade by her sister Miki Chiba, a professional Japanese framer. Although translated as 'framer,' the profession, called hyogu-shi, is more specifically concerned with the mounting of rice paper, called washi. Traditionally, in addition to creating hanging scrolls, the profession also included mounting washi on sliding doors and folding screens. The work of a hyogu-shi was highly respected because of the dexterity, skill and refined taste that was needed to bring out the best in the work of art to be framed. In essence, the work of a hyogu-shi has the ability to either make or break an artwork, be it a piece of calligraphy or painting. Yet today, with the advancement of machines and technology, the craft is dying out with less and less people interested in becoming traditional framers.
| | |
| --- | --- |
| | |
| | Seiran's sister, Miki Chiba, is a professional hyogu-shi who mounts and frames the works |
Both Seiran and her sister are devoted to the hand-made tradition. Unlike synthetically produced glues used by machines, a hyogu-shi uses a natural form of glue made from wheat starch. This allows framers to separate the scroll from the central artwork without leaving any damage. This becomes extremely important when performing restoration work on old hanging scrolls. In fact, the original framers of historic artworks mounted the central art on scrolls with the intention of the scroll being replaced and repaired in a hundred years' time by the next generation of framers. In this way, hyogu-shi have passed down not only traditional techniques, but also antique artworks that grace museums today. Seiran and Miki carry on such efforts with the hope that these unique calligraphy works will endure, and hopefully, be passed down and inherited long after they are gone.
Seiren Chiba at her volunteer calligraphy workshops for the victims of the Fukushima disaster

Since finding inspiration in the natural world around Fukushima, Seiran spent months travelling to the 59 municipalities that make up the prefecture and creating works in each. It was a journey meant to reinforce her unique approach to the art form and the beauty found in the area. In March 2011, when she had only 6 more municipalities to go, an earthquake and tsunami struck the area. It was soon followed by Fukushima's nuclear disaster. Seeing first-hand the destruction and despair that weighed on the people in the aftermath of the tragedy, Seiran hardened her resolve to pursue life as a calligraphy artist. She completed her trip and then opened workshops for victims who had lost family and homes, helping them express their feelings through calligraphy. Her volunteer work continues to this day.
| | |
| --- | --- |
| | |
| Aizu Hongo wares with calligraphy by Seiran Chiba | |
Seiran's desire to help others, her passion for traditional arts, and her aspiration to pass on the knowledge and beauty of calligraphy to modern audiences eventually led her to the United States. In the past several years she has been highly acclaimed for her work. In every place she visits, Seiran imparts what she feels, sees and experiences in the characters she creates. It lends her work a personal, intimate feeling transcending the locality itself. Ultimately, calligraphy is a composite of lines, but each line expresses different sentiments and to produce any one of them takes years of training and practice. A lifetime of experience is inevitably infused into every piece of work. Generally speaking, calligraphy displays a world of black and white, and although the lines in a completed work display those colors, they also reflect the unique colors of the artist's personality. Seiran Chiba's colors are constantly evolving with every new place she visits and every new experience she gains. In the truest sense, she is a traveling calligraphy artist and in her eyes, her journey has only just begun.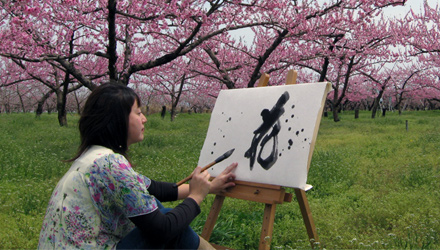 Seiran writing calligraphy outdoors among the cherry blossoms