Edited by Glen Joffe

| | |
| --- | --- |
| | |
| | Ghanaian Movie poster for Nollywood film Babone 2; PRIMITIVE ID# P0900-189 |
In the late 1980s when videocassette recorders (VCRs) started making their way into Ghana, a small cottage industry developed called the 'mobile cinema.' The industry was composed of entrepreneurs who were armed with three tools – a TV, VCR and a gas powered portable generator. In the evening they would travel to remote villages or set up an itinerant theater in underserved parts of cities and sell tickets to the movies they presented; hence the name mobile cinema. The 'cinema' was little more than several rows of rickety chairs assembled in front of the TV. They screened movies from Hollywood (America), Bollywood (India), Nollywood (Nigeria and Ghana), and even Hong Kong action flicks. The problem for the entrepreneurs was how to attract a profitable crowd?
| | |
| --- | --- |
| | |
| Ghanaian Movie poster for Nollywood film Opportunity; PRIMITIVE ID# P0900-276 | |
The answer was movie posters, but not the flimsy paper posters put out by Hollywood in the West. Ghanaian artists used cotton flour sacks as canvas for images that did not shy away from detailing extreme blood, gore, weapons, dismemberments, devils, beasts, ghosts, skeletons, aliens, irony, parody, or whatever else provoked strong reactions from would-be ticket buyers. Disgust, horror, panic, shock, fear – it was all fair game as long as the poster made an impression. Many artists weren't even familiar with the films they were advertising, but that didn't matter. What did matter was capturing the attention of the public with the idea of motivating them to buy tickets. It seems shameless sensationalism was a means to an end.
Ghanaian Movie poster for Hong Kong film Gymkata with detail of back; PRIMITIVE ID# P0900-245

Engaging the public by making posters memorable in ways both good and bad was the most effective way to draw in an audience. To do this, artists were often given free rein with their creativity. Nothing was off limits. If a character did not have a gun in the movie, an artist might give him one anyway. If the subject of cars was too tame, aliens shot beams from the sky. A bloody knife might indicate a hack and slash film, but some added mutilation and a touch of cannibalism might be added for good measure. Sometimes posters turned out to unrelated to the film and angry viewers would demand their money back. If the artist was in the crowd they might silently slip away before the anger turned on them. At least the posters got them interested, didn't they?
| | |
| --- | --- |
| | |
| Ghanaian Movie poster for Hollywood film Child's Play 3; PRIMITIVE ID# P0900-293 | |
As noted, artists painted on used flour sacks, which they did to keep costs low. A cotton flour sack costs less by a wide margin than a stretched artist's canvas. The only physical limitation artists had was the size of the posters. Size was determined by using one side of a 50kg flour sack or two sides stitched together. These sacks also proved to be exceptionally durable considering posters were hung outside for days or even weeks, rain or shine. On many of the pieces in PRIMITIVE's collection you will notice sides and corners are shredded and have holes from the nails that held them up. Such wear and tear, creases, mud splatters and faded colors all attest to the authenticity of these posters while telling the story of the 'Golden Age' of Ghanaian movie posters.
| | |
| --- | --- |
| | |
| | Ghanaian Movie poster for Bollywood film Naag Pooja; PRIMITIVE ID# P0900-141 |
The 'mobile cinema' slowed down in the late 1990s when TVs and VCRs became more affordable and individual families could own them. It was then that the posters found new admirers among Western collectors. Vintage authentic posters from Ghana were bought and collected, in many cases for thousands of dollars. This form of African art is far different than the more traditional forms including sculpture and masks, but like other African collectibles, posters share the common trait of being captivating. Movie posters are more than just marketing tools featuring gruesome and exaggerated depictions. They are art forms that were made to engage, grab attention and elicit reactions.
| | |
| --- | --- |
| | |
| Ghanaian Movie poster for Hollywood film Escape From Alcatraz; PRIMITIVE ID# P0900-220 | |
The popularity of Ghanaian movie posters has grown so much that the same artists who painted during the peak era are now being asked to reproduce their works for avid collectors. The demand is such that copies began to appear on the world market. Nevertheless, collectors are aware of the vast difference between the works that were produced for the Ghanaian public and those produced for the West. While the later posters are still striking, memorable, and display the ingenious creativity of the artists, it is the early Ghanaian movie posters that stand out as the most engrossing collectibles – pun, once again, much intended – showing clear evidence of use in a weathered, but still eye-catching way.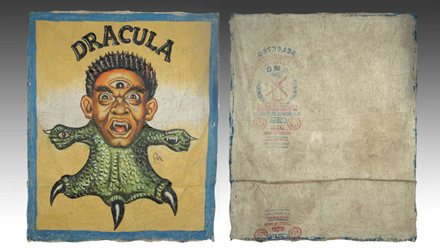 Ghanaian Movie poster for Hollywood film, Dracula; PRIMITIVE ID# P1400-110