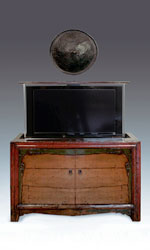 We create custom interior design and products that bridge collections with living spaces. Some of our custom work includes:
Custom repurposed textiles and upholstery: Tribal textiles, some of which can reach over twenty feet in length, are sometimes difficult to appreciate in conventional ways. Repurposing these unique cloths provide artistic solutions, such as applying them as upholstery to contemporary chairs and benches or designing custom throw pillows and tapestries.
Small to large-scale custom carving: In addition to the original hand-carved walls of the Five Elements Library, the chandelier was also custom designed and created by our in-house metal and restoration departments. From initial sketches to the final product, our team supports the project every step of the way.
Retrofitting one-of-a-kind antiques: One of the more unique custom works we do is enhancing antique furniture in functional ways to better meet daily needs. Without diminishing the character of the antique, modern components are added such as television lift mechanisms or supports for home entertainment systems. Old and new can be appreciated together or separately with this approach to custom design.